Development summary December 2020 - June 2021
Hello! Glad to see you again. It was quite some time since you last heard from me here on Steam. Anyway, I'm happy to inform you that I was working on Sou'wester Winds tirelessly, just maybe a little bit different than you might have expected.
Summary
A "small" development tool - The start of something big
MOENTO - Create unique structures
December to January - Devlopment continued
April to June - The new era of Sou'wester Winds
Multiplayer - A big deccision
As you might remember from my last development summary, I informed you that I just started with the survival part for the game. This was in fact true and I included some pictures of my (now redundant) progress further down.
A "small" development tool
The main reason why the development seemingly slowed down was, because during the development for the survival part, I built a little tool to help me create structures faster to populate the villages I was working on. As I posted some early pictures of this tool on our discord, various other developers showed interest in using this tool for their games too.
MOENTO – Modular Environment Toolkit
Dedicated to make the development tool I was working on, into a standalone thing, I remembered the "Worlds Adrift – Island creator" which allowed users to submit islands to the main game. With this inspiration in mind I decided to choose a similar approach, just game independent. The aim is that other devs can use it for their game but we can also use it for Sou'wester Winds. With the goal that you, the community, will be able to assist me in creating unique content to populate the game world.
Now as you can see above the fist segment of this tool is actually already released! You can not yet create content specifically for Sou'wester Winds but the general tool is out now, so feel free to check it out.
December – January
Now let's get in to the actual development summary! Before I paused the development on Sou'wester Winds to focus on MOENTO for some time, I actually got some stuff done:
A lot of this is now obsolete. Why you might ask? Well, the time away from Sou'wester Winds actually made me notice that it was going into a direction I don't really like it to go. Some things where just how they were because I did not want to copy some other games…
To summarize a long thought process I did go though, I eventually decided to scrap these unwanted things and make Sou'wester Winds the game I wanted it to be deep in my heart.
April – June
After the first segment of MOENTO was released, I picked up the development of Sou'wester Winds again. Now what will change?! The good news is that the main thing you were able to test until now, the shipbuilder, will stay nearly as you know it. The main change is that later on in the game you will be able to leave the water beneath you and head for the skies. Everything will get a slight sci-fi touch as you can see it shown in the most recent concept arts below:
Multiplayer
This is a big and currently still undecided topic. The only thing that is already decided is that if it is going to have multiplayer then in form of a co-op experience, to probably max. 6 players. A poll in our discord (which you should definitley join if you've read until here!) showed that the community is roughly 50/50 split about this topic. Half of the people want a singleplayer game and the other half wants it to be multiplayer game, even if it will "delay" the release. So fo now I am prototyping some multiplayer stuff in order to get a feel for it. Below you can see some videos of these tests as well as a group picture of our first multiplayer test event.

That's all for now, I thank you very much for reading until here, you are a hero!
If you want to see new concept arts right when they are created or want to participate in future tests, make sure to join our discord!
Development summary October - November
Nearly three months ago the first tweet about Sou'wester Winds was posted. It marked the start for this truely ambitious project but since then we were already able to celebrate some of the first Milestones!
Summary
Playtest - Sign up now!
Ship Builder - Furthest devloped
Survival - Devlopment startet
Roadmap - What lies ahead
Playtest (Paused)

If you can't wait then this is not a problem, go ahead and download the playtest application. As I aim to devlop this game together with the community it is very importatnt to involve you as soon as possible. Test it, break it, and I will fix it. We also have a Discord server now where you can talk and hangout with me as I devlop this game. If you have any suggestions or wishes, let me know via twitter or Discord.
Ship Builder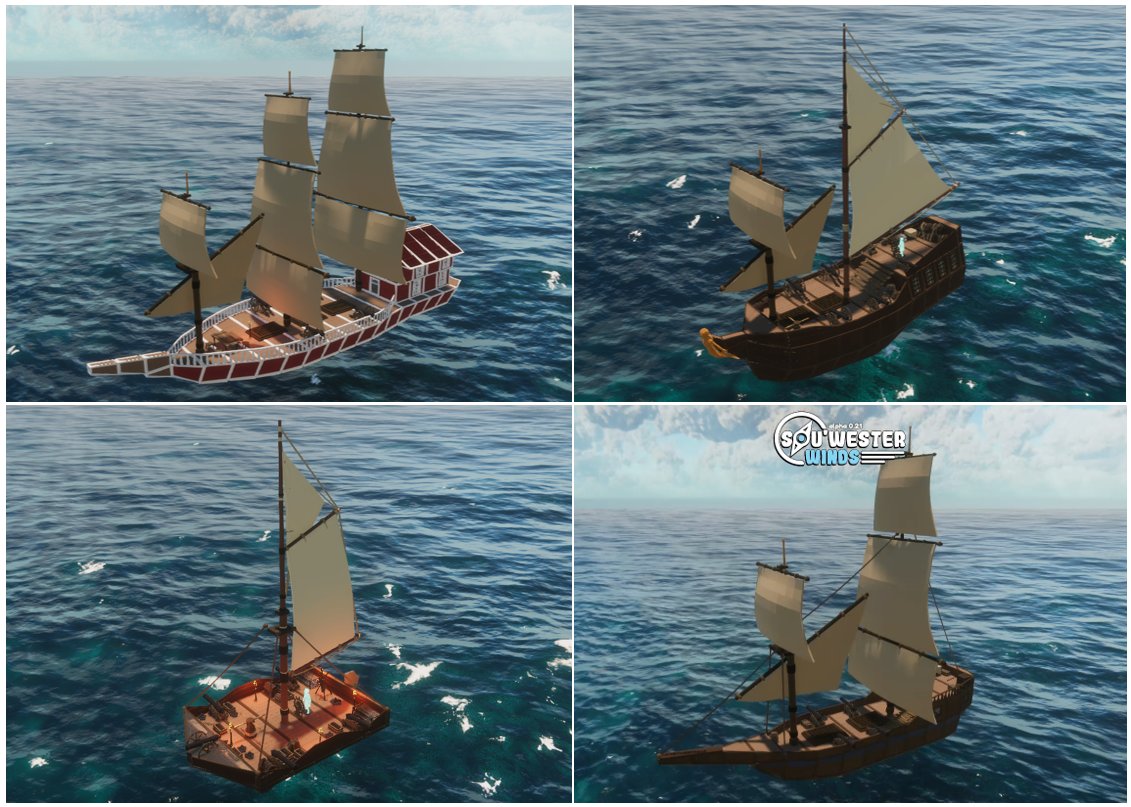 The ship is your home and place of calm to prepare your next adventure. As you will sail the endless oceans it needs to be cozy, right? This is why you have the opportunity to build your ship from scratch where I want to provide as few restrictions as possible. As not everyone is an expert ship engeneer I already added the Steam Workshop to the game for your usage. There you can share your amazing Creations and also subscribe to Blueprints of others to use it in your own play trough.
Here is one I created to test how big you can build your ship, I had to notice the limit is not easy to reach so this only marks a middle ground of size. I can now savely say that the limit will mostlikely be your imagination rather than the build limit.
Ein Workshop-Objekt für Sou'wester Winds

From: bblessed

Was testing how big I can build a ship... ...this is not jet the limit.
Survival
As stated above the Shipbuilder is already in the hands of the alpha testers, this gives me time to work on the survival mechanics. All you see below is heavy work in progess but you can see we're progressing faster than I ever Imagined!



RoadmapHere you can see how far the devlopment has progressed so far.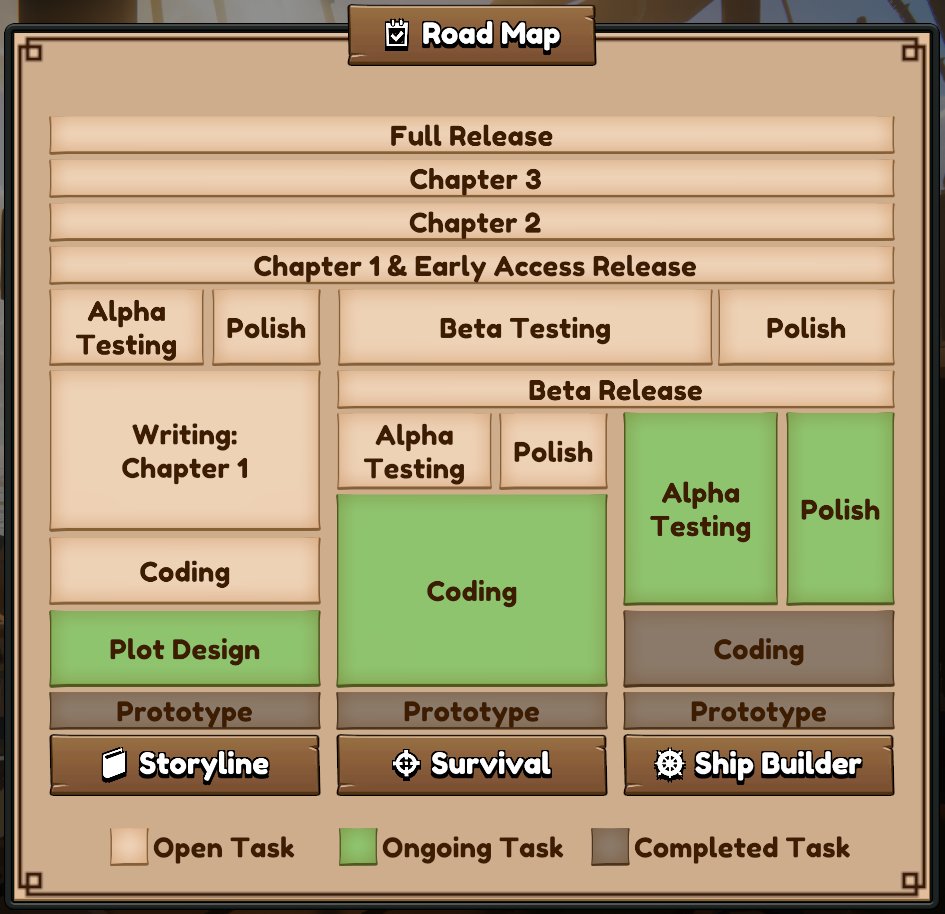 Thank you for reading you are a real hero!